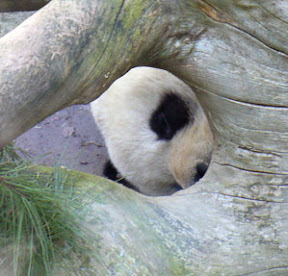 Well, last week's theme really made me think. I've been thinking since last Friday over the theme "Rare" I felt this could be interpreted

several

ways. My first thought, was a rare piece of meat... disgusting right? Or something

valuable

that could not be easily replaced. Or sarcastically as in its "rare that I go on a road trip". Finally today I figured out what I wanted to share a picture of.
Pandas! Pandas are rare both in nature and captivity. I got to see real live pandas in March of this year when I went to the San Diego Zoo. It was a nice warm day so of course... they were sleeping!

Today was a better day I think. I didn't feel like I was "waiting" all the time which is pretty much what I had been doing for a week... waiting for that phone to ring with my biopsy appointment. However I'm still dealing with the stress in that time honoured way... EATING! I keep catching myself doing it too... grabbing something to eat without thinking about it or really wanting it. I really need to get this under control. Also I'm still finding it hard to focus on my stitching... I'm constantly jumping between it and my

computer

.
This weekend I've got a distraction for myself... I'm going to visit with my friend Ann in Brighton! Todd's planning on doing yard and house stuff since the weather is going to be nice... so no distractions to be expected from him.
Anyhow everything is all set up for Monday. My Mum and Dad are going to take me into the hospital where the biopsy will be done. I gave Todd the opportunity... but heaven forbid he take time off of work to support me emotionally (heck, he left me sitting alone at home on my birthday until 11:3o at night... no apologies. Also when I had surgery a couple of years ago he didn't take me to the hospital, or pick me up... or visit me as I had to spend the night). I've also got coverage at work all set up as well.
Once again I can't thank all of you enough for the well wishes,

positive

thoughts, prayers and hugs!